News Articles on Different Bible Curricula Available Nationwide for Public Schools



National Council on Bible Curriculum in Public Schools - Greensboro, NC

Bible in Schools Project - Chattanooga, TN

Bibles in Public Schools - Corpus Christi, TX

Bible Literacy Project - Front Royal, VA
Ben Kinchlow
Board Member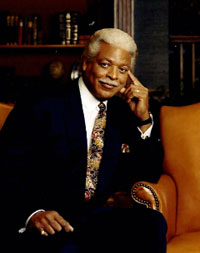 Minister, broadcaster, author, and businessman – Ben Kinchlow is known throughout the world as the long time Co-Host of The 700 Club, and Host of the International Edition of The 700 Club, as seen in more than 80 countries. He also produced and hosted several CBN specials such as "Straight Talk," a daily 30-minute high-energy television show, and co-hosted "Taking It To The Streets," a live daily one-hour radio talk show.
Kinchlow served 13 years in the Air Force… was recipient of the American Legion Award of Merit… earned a degree in Business Administration… was named to "Who's Who in Small Colleges"… later directed a drug and alcohol rehabilitation program at "Christian Farms" in Killeen, Texas. He was ordained in the African Methodist Episcopal Church in 1971. Kinchlow founded "His Place," a ministry to teens.
He came to CBN where he served as Director of Counseling, with oversight of the National Counseling Centers in major cities across the United States. He joined Pat Robertson as Co-Host of The 700 Club. In addition to his hosting responsibilities, he also served as Vice President for Domestic Ministries, with responsibility for all aspects of the Counseling Centers, including recruiting and training Area Directors and establishing relationships with major churches. Responsibilities included supervision of International Counseling Centers in numerous countries, including Panama, the Philippine Islands, Colombia, and Costa Rica.
As Executive Vice President, he had management oversight of the Major Donor Department, Partner Correspondence, Estate Planning Division, Direct Mail, and Partner Seminars. This provided comprehensive experience in many facets of the business and operations of large international ministries.As a member of Phi Theta Kappa, Kinchlow was honored as its "Most Distinguished Alumnus" and he graduated from the CEO/Executive Management course at the University of Virginia.
After twenty-one years, Kinchlow left CBN to begin independent ministry.
Kinchlow founded Americans For Israel – an organization dedicated to promoting a mutual understanding of the ancient bond that exists between Christians and Jews and restoring and renewing the traditional ties between the Jewish and African American communities.(www.americansforisrael.net )
Kinchlow is Founder and CEO of The AAPAC (African American Political Awareness Coalition), an organization designed primarily to encourage African Americans to cast a vote based on "principle, not party." Kinchlow serves as Co-Host of the Front Page Jerusalem radio show with Earl Cox, who served four Republican Presidents. FPJ is a comprehensive news and commentary program featuring top newsmakers in the U.S. and Israel. (www.frontpagejerusalem.com)
Kinchlow serves as Vice President and Board Member of Kids Against Hunger, a dynamic worldwide feeding program for starving children. (www.kidsagainsthunger.com) Kinchlow serves on the Board of the National Council on Bible Curriculum in Public Schools, helping place the Bible back in the public schools as an elective.
Kinchlow is the author of several books including Plain Bread and You Don't Have To If You Don't Want To. He is married to the former Vivian Carolyn Jordan. They have three sons and six grandchildren.
To date, our Bible curriculum has been voted into 3,274 high schools in 41 states. Over 650,000 students have already taken this course nationwide, on the high school campus, during school hours, for credit.
Bible Scholars
Advisory Council
Our Textbook