News Articles on Different Bible Curricula Available Nationwide for Public Schools



National Council on Bible Curriculum in Public Schools - Greensboro, NC

Bible in Schools Project - Chattanooga, TN

Bibles in Public Schools - Corpus Christi, TX

Bible Literacy Project - Front Royal, VA
Gena and Chuck Norris
Board Members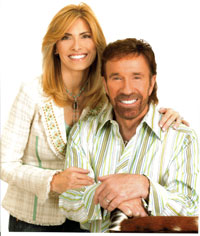 Gena and Chuck Norris are passionate about their role as supporters of The National Council on Bible Curriculum in Public Schools. Chuck and Gena joined the NCBCPS because of their belief in the organization's conviction that bringing the Bible back to students as an elective history and literature class in the public school system is the most important key to understanding the Bible's impact on history and literature. And this understanding could have a profound and positive impact on the lives of our youth while in school.
As National Board Members and Supporters for The National Council on Bible Curriculum in Public Schools, Gena and Chuck are a highly visible team of spokespersons, raising awareness by appearing in public service announcements and making public appearances for and on behalf of the NCBCPS whenever they can.
The couple spends countless hours devoted to the causes they believe in. Gena provides leadership and support, and also acts as spokeswoman to organizations such as United Cerebral Palsy of Dallas – even becoming President for a term in its Women's Guild and lending her voice to the group for over 10 years. She is also an advocate for the Dallas Pregnancy Resource Center. An in-demand speaker, Chuck has served as a spokesperson for agencies such as The United Way and The Veteran's Administration, and has received honors that include Make-A-Wish Foundation's Celebrity Wish Granter of the Year, the Veteran Foundation's Veteran of the Year Award, Jewish Humanitarian Man of the Year Award, and the Texas Commission on Alcohol and Drug Abuse's Community Champion Award.
In 1990, Chuck Norris created his own Foundation, KICKSTART, with the primary focus to offer high-risk youth the opportunity to train in the martial arts as part of their daily school curriculum (replacing PE). Gena has become an incredibly valuable member of the Board and number one fan! KICKSTART is a character building, life-skills program dedicated to saving and changing children's lives. Since 1992, over 45,000 youngsters have participated in this program and Chuck and Gena's goal is to have KICKSTART in every middle school in the U.S. one day.
Gena met martial artist and film star Chuck Norris while he was filming his television series, Walker, Texas Ranger, and they were married soon after. The couple now has twins that keep them very busy – even when they are out supporting the charitable and humanitarian causes they endorse.
Both Gena and Chuck believe that the Bible presented as elective educational curriculum in the public school system is exactly what the youth of today need as the compass by which to steer and protect them from the mixed messages they receive in the modern world.
To date, our Bible curriculum has been voted into 3,274 high schools in 41 states. Over 650,000 students have already taken this course nationwide, on the high school campus, during school hours, for credit.
Bible Scholars
Advisory Council
Our Textbook