News Articles on Different Bible Curricula Available Nationwide for Public Schools



National Council on Bible Curriculum in Public Schools - Greensboro, NC

Bible in Schools Project - Chattanooga, TN

Bibles in Public Schools - Corpus Christi, TX

Bible Literacy Project - Front Royal, VA
Ruth Cox Mizell
Board Member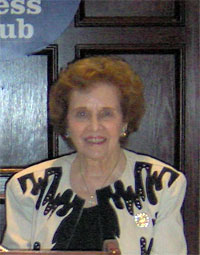 Ruth Cox came to Washington, D.C. as a widow in 1984. She had been active in Bible teaching and National Day of Prayer in Corpus Christi, Texas. Since 1964 she had known the Bush Family. She had been Campaign Chairman for South Texas. They have continued as friends. She also chaired his campaign in 1979 in Corpus Christi and then worked for Reagan and Bush.
In Washington, she became a Liaison to the White House and took many foreign prayer trips to China, Russia, Yugoslavia, Romania, Argentina, Outer Mongolia, and Berlin. She hosted the "Vinegar Bend Interfaith Prayer Chapel" at the 2000 Republican Convention in Philadelphia.
In 1991 she met Wilmer Mizell (Vinegar Bend), a former baseball player and congressman from North Carolina at a prayer breakfast. They were married but he had a fatal heart attack in Texas in 1999. During their time together, they put the Jesus Video in two Texas cities and hosted a Prayer Pavilion in Jerusalem for six weeks. Also, Wilmer coached the Israeli Little League Baseball Team who were to represent Israel in Prague.
Now she is a liaison to the Capitol for the Capitol Hill Prayer Partners who have prayer captains at the Capitol when congress is insession.
But her most interesting assignment is to help in having a Bible curriculum elective in the public schools. Ruth's dream is that every high school boy and girl will have an opportunity to study the Old and New Testament with the Bible as the Textbook.
She has three children and six grand children and makes her home in Alexandria, Virginia.
To date, our Bible curriculum has been voted into 3,274 high schools in 41 states. Over 650,000 students have already taken this course nationwide, on the high school campus, during school hours, for credit.
Bible Scholars
Advisory Council
Our Textbook