YouNEED TO KNOW
You CAN have the Bible taught on your high school campus, as an elective, during school hours, for credit, with the Bible as the textbook.


YouNEED TO READ
some excerpts from letters from students who have taken the elective
YouNEED TO LEAD THE WAY
You can bring this course to your local high school
Let your friends know how they can get this in their high school...
Get this ...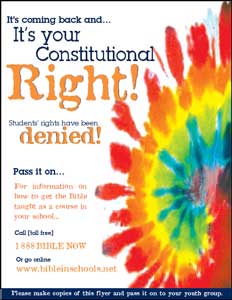 Check these out...
Want to know how to get this in your local school district?
Call toll free 1-877-ON-BIBLE to learn how to get how to get a package of information
You can also make copies of this petition and start getting students signatures.

Be sure to check the box marked student and call us to find out how many signatures you will need.

Get this ...