News Articles on Different Bible Curricula Available Nationwide for Public Schools



National Council on Bible Curriculum in Public Schools - Greensboro, NC

Bible in Schools Project - Chattanooga, TN

Bibles in Public Schools - Corpus Christi, TX

Bible Literacy Project - Front Royal, VA
Home

Founding Fathers
The Bible was the foundation and blueprint for our Constitution, Declaration of Independence, our educational system, and our entire history until the last 20 to 30 years.

"The Bible is a book worth more than all the other books that were ever printed."

"It is impossible to enslave mentally or socially a Bible reading people. The principles of the Bible are the groundwork of human freedom."

"I have always said, and will always say, that studious perusal of the sacred volume will make us better citizens."




While President of the United States, Thomas Jefferson was elected the first president of the Washington, D.C. public school board, which used the Bible as a reading text in the classroom.
There was a secular study done by the American Political Science Review on thepolitical documents of the Founding era, which was 1760-1805.
This study found that 94% of the documents that went into the Founding ERA were based on the Bible, and of that 34% of the contents were direct quotations from the Bible.
88% of students nationwide are educated in the public school system.
To date, our Bible curriculum has been voted into 3,500 high schools in 41 states. Over 650,000 students have already taken this course nationwide, on the high school campus, during school hours, for credit.
Bible Scholars
Advisory Council
Our Textbook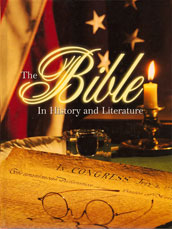 Quarterly Briefing