News Articles on Different Bible Curricula Available Nationwide for Public Schools



National Council on Bible Curriculum in Public Schools - Greensboro, NC

Bible in Schools Project - Chattanooga, TN

Bibles in Public Schools - Corpus Christi, TX

Bible Literacy Project - Front Royal, VA
Home

Latest News

Tennessee Local classes in Bible could be used statewide
| | |
| --- | --- |
| Tennessee Local classes in Bible could be used statewide | |
The Bible history program taught in local schools could become a model for other Tennessee systems until a state-approved curriculum goes into effect.
"This summer we'll collect all the curriculums from systems that already offer Bible courses so we'll have them on file to share with other districts that don't have one," said Rachel Woods, spokeswoman for the state Department of Education.
State legislators recently passed a bill allowing the creation of a state-sponsored Bible curriculum, giving all Tennessee counties a chance to offer the elective.
Read the entire article: Tennessee: Local classes in Bible could be used statewide
To date, our Bible curriculum has been voted into 3,500 high schools in 41 states. Over 650,000 students have already taken this course nationwide, on the high school campus, during school hours, for credit.
Bible Scholars
Advisory Council
Our Textbook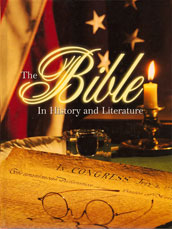 Quarterly Briefing