News Articles on Different Bible Curricula Available Nationwide for Public Schools



National Council on Bible Curriculum in Public Schools - Greensboro, NC

Bible in Schools Project - Chattanooga, TN

Bibles in Public Schools - Corpus Christi, TX

Bible Literacy Project - Front Royal, VA
Home

Latest News

Alabama Adopts New Textbook for Academic Study of the Bible
| | |
| --- | --- |
| Alabama Adopts New Textbook for Academic Study of the Bible | |
Alabama Adopts New Textbook for Academic Study of the Bible
State Board of Education decision provides state funding and approval for "The Bible In History and Literature", by the National Council On Bible Curriculum In Public Schools.
MEDIA ADVISORY, Nov. 20 /Christian Newswire/

The following is submitted by Scott Beason, Alabama State Senator:

Last week, after a rigorous, year long evaluation process, the Alabama State Board of Education voted unanimously to approve the Bible Curriculum, "The Bible in History and Literature", for statewide usability. The curriculum published by the National Council On Bible Curriculum In Public Schools is already being used in several school districts across Alabama, but State Board approval means that local districts can now be reimbursed by the State for the cost of the course materials. Reports and studies released over the last few years indicate that leading high school English teachers, as well as university level literature professors, believe that students should possess a strong familiarity with the Bible in order to attain a well rounded education. It is extremely difficult to understand western thought including history, politics, and social interaction without an understanding of the content of the Bible.

"The Bible in History and Literature" has undergone tremendous scholarly review. Members of the team that provides academic review of the curriculum have graduate degrees from and have studied and worked at such prestigious institutions as Oxford, Harvard, Princeton, and the Hebrew University and the Jerusalem University in Israel.

"The Bible in History and Literature" has widespread support across these United States and is currently used in 472 school districts (1900 high schools) in 38 states. The overwhelming majority, 94 percent, of the school districts nationwide that have officially considered the curriculum have adopted the course for use in their local systems. To date, over 210,000 students have taken the course.

This approval by the State Board of Education will allow any of Alabama's over 500 high schools to offer this elective course on the Bible that has been thoroughly reviewed by scholars and is proven to be academically legitimate for study. www.bibleinschools.net 1 877 ON BIBLE.

To date, our Bible curriculum has been voted into 3,500 high schools in 41 states. Over 650,000 students have already taken this course nationwide, on the high school campus, during school hours, for credit.
Bible Scholars
Advisory Council
Our Textbook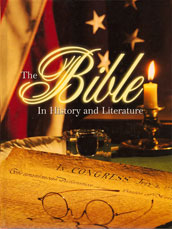 Quarterly Briefing