News Articles on Different Bible Curricula Available Nationwide for Public Schools



National Council on Bible Curriculum in Public Schools - Greensboro, NC

Bible in Schools Project - Chattanooga, TN

Bibles in Public Schools - Corpus Christi, TX

Bible Literacy Project - Front Royal, VA
Home

Latest News

Chuck Norris: Bringing the Bible back into schools (WorldNet Daily)
Chuck Norris: Bringing the Bible back into schools
(WorldNet Daily)

You will definitely want to read this entire article at WorldNet Daily. Our good friend Chuck Norris spells out quite clearly how this grass roots effort is taking hold.
Three hundred eighty-two public school districts have voted to implement a course on it.
Over 1,350 schools in 37 states can now offer it as a textbook.
Approximately 190,000 students have already been taught from it as a course curriculum.
I'm talking about the Bible in public school. It's no joke! And I want to help you get a course on it offered in your school district, too.
The Bible is big news!
Over the past few years dozens of news agencies from all over our nation have reported on the re-entry of Bible curriculum back into classrooms.
Just this past week, Time ran a cover story, "Why we should teach the Bible in public school."
Georgia's Legislature approved and is preparing its 180 school districts to offer two literature classes on the Bible.
More than 800 Craig, Colo., residents are petitioning to get an elective class at Moffat County High School on the history and literature of the Bible.
In my own state of Texas, the House Public Education Committee is presently considering requiring the state's 1,700 school districts to offer history and literature courses using the Bible as the primary text.
Liberal attacks on Bible curriculum
Of course, liberal groups are fighting at great expense to keep the Bible from being taught in public classrooms.
The Texas Freedom Network, or TFN, is one of them – a self-admitted adversary of any biblically conservative movement, calling themselves "a mainstream voice to counter the religious right." The TFN, for example, is requesting five unnecessary changes to the Texas bill, which is intended to assure students are taught this classic text:
Mandate that teachers have appropriate academic qualifications and sufficient training on legal and constitutional issues surrounding instruction about the Bible in public schools.

Require rigorous, scholarly reviewed textbooks and other curriculum materials for all courses.

Include strong and specific language that protects the religious freedom of students and their families by barring the use of Bible classes to evangelize or promote personal religious perspectives.

Require the Texas Education Agency to regularly monitor and report on the content of public school Bible courses to ensure that they are academically and legally appropriate.

Continue to allow districts the option to offer – or not offer – such courses.
Much more subtle than the TFN are the liberal ''compromises'' being offered by such individuals as Charles Haynes, the head of the Freedom Forum First Amendment Center, who purports to be a helper ''for schools and communities [to] find common ground on conflicts involving religion and values in public schools.'' Haynes' address of this issue remains suspect due to his continued track record of pushing a very pro-liberal platform – something that would make any card-carrying member of the ACLU proud. His conflict of interest also lies in the self-promotion of a textbook, ''The Bible and its influence,'' which he has partnered in developing and marketing to public schools.
Groups like TFN, or masked secular progressives like Charles Haynes, are offering a paranoid and polemic reaction to protect children from being preached at with the Scriptures. In the end, however, if they have their way, they will inadvertently prohibit the children of our land from learning about the one sacred text that has influenced more spheres in our nation than any other. Even more, they are fighting against the very positions and purposes for which our Founding Fathers raised up this country.
The Word from your Founding Fathers
Anyone who has studied early American history knows that the Bible has always been embedded throughout our culture, from classrooms to congressional halls. This was especially the case in the origins of our nation.
A study by the American Political Science Review on the political documents of the founding era, which was from 1760-1805, discovered that 94 percent of the period's documents were based on the Bible, with 34 percent of the contents being direct citations from the Bible. The Scripture was the bedrock and blueprint of our Declaration of Independence, our Constitution, academic arenas and heritage until the last quarter of a century.
Citing a few of our Founding Fathers, the NCBCPS website notes:
"The Bible is a book worth more than all the other books that were ever printed." – Patrick Henry

"It is impossible to enslave mentally or socially a Bible reading people. The principles of the Bible are the groundwork of human freedom." – Horace Greeley

"I have always said, and will always say, that studious perusal of the sacred volume will make us better citizens." – Thomas Jefferson

While president of the United States, Thomas Jefferson was elected the first president of the Washington, D.C., public school board, which used the Bible as a reading text in the classroom.
If men like Jefferson believed in biblical education, it is not difficult to understand why liberal groups like TFN are losing the battle to prohibit the Bible and its influence on Western civilization from being taught in public schools. Try as they might, they will succumb to a force far bigger than themselves.
Gena and I ponder and pray through many requests to endorse certain causes and products, but it took us only a few minutes to decide to support and even join the National Council on Bible Curriculum in Public Schools, or NCBCPS.
NCBCPS's course helps students understand the Bible's influence and impact on history, literature, our legal and educational systems, as well as art, archaeology and other parts of civilization. In this elective class, students are required to read through their textbook – the Bible.
Unknown to most, it's legal and our constitutional right to be taught the Bible in public schools!
That is why, from California and Alaska to Pennsylvania and Florida, 93 percent of boards approached with NCBCPS's Bible curriculum have voted to implement it.
You can preview some of the curriculum or the teacher's guide at their website.
To learn how anyone can help their local school board to implement Bible curriculum, please write or call NCBCPS at the contact information below.
For a contribution of any size, a starter package with a step-by-step guide, all legal data necessary to satisfy the questions of school board members, letters from school districts that have implemented it, the table of contents of the Bible curriculum, and other NCBCPS information will be sent to you immediately.
National Council On Bible Curriculum In Public Schools
Post Office Box 9743
Greensboro, North Carolina 27429
(877) OnBible
(336) 272-3799
(336) 272-7199 (fax)
So, what's stopping you from being the instrument for implementing biblical education in your local school?
If you doubt you can do it, just recall my favorite words from D.L. Moody: ''I am only one, but I am one. I cannot do everything, but I can do something. And that which I can do, by the grace of God, I will do."

---
Read the original article at WorldNet Daily (will open in a new window)
To date, our Bible curriculum has been voted into 3,500 high schools in 41 states. Over 650,000 students have already taken this course nationwide, on the high school campus, during school hours, for credit.
Bible Scholars
Advisory Council
Our Textbook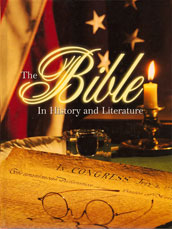 Quarterly Briefing