News Articles on Different Bible Curricula Available Nationwide for Public Schools



National Council on Bible Curriculum in Public Schools - Greensboro, NC

Bible in Schools Project - Chattanooga, TN

Bibles in Public Schools - Corpus Christi, TX

Bible Literacy Project - Front Royal, VA
Home

Quarterly Briefing
This is a quarterly briefing from the National Council on Bible Curriculum in Public Schools with Founder/President Elizabeth Ridenour & Vice President Israel Hall. It features endorsements by Chuck Norris and his wife Gena, country singer Charlie Daniels, Dr. Bill Bright - Founder/President of Campus Crusade For Christ, Dr. Alveda King, and Tim Wildmon - President of the American Family Association. The briefing concludes with a moving performance of God Bless the USA on saxophone by Israel Hall.
Thank you very much for your consideration!
To date, our Bible curriculum has been voted into 3,500 high schools in 41 states. Over 650,000 students have already taken this course nationwide, on the high school campus, during school hours, for credit.
Bible Scholars
Advisory Council
Our Textbook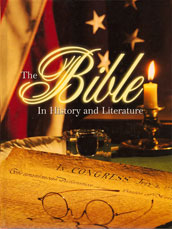 Quarterly Briefing