News Articles on Different Bible Curricula Available Nationwide for Public Schools



National Council on Bible Curriculum in Public Schools - Greensboro, NC

Bible in Schools Project - Chattanooga, TN

Bibles in Public Schools - Corpus Christi, TX

Bible Literacy Project - Front Royal, VA
Home

Latest News

Register Praised For Stand On Bible Classes
| | |
| --- | --- |
| Register Praised For Stand On Bible Classes | |
Pete Austin III, of the local group Bible in the Schools, lauded Hamilton County School Superintendent Jesse Register on Thursday for his support of the Bible History classes taught in county schools.

"I am so pleased to have a superintendent of schools that believes teaching the Bible in public schools is a valid educational pursuit," Mr. Austin told the Downtown Rotary Club.

"We wouldn't have Bible classes in Hamilton County Schools without Jesse Register," he said.

Mr. Austin's group, Bible in the Schools, reimburses the school system the full costs - salary and benefits - of all 14 Bible History teachers serving in 17 middle and high schools across Hamilton County. Mr. Austin said their financial support has kept Bible classes in the local system for the last 81 years.
Read the entire article: Register Praised For Stand On Bible Classes
To date, our Bible curriculum has been voted into 3,500 high schools in 41 states. Over 650,000 students have already taken this course nationwide, on the high school campus, during school hours, for credit.
Bible Scholars
Advisory Council
Our Textbook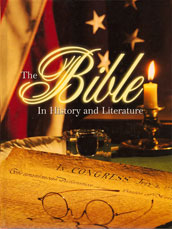 Quarterly Briefing