News Articles on Different Bible Curricula Available Nationwide for Public Schools



National Council on Bible Curriculum in Public Schools - Greensboro, NC

Bible in Schools Project - Chattanooga, TN

Bibles in Public Schools - Corpus Christi, TX

Bible Literacy Project - Front Royal, VA
Home

Latest News

Privately funded elective Bible classes taught in public schools
| | |
| --- | --- |
| Privately funded elective Bible classes taught in public schools | |
CHATTANOOGA (AP) -- Instructors financed by a private Bible in the Schools program are teaching Bible classes as an elective in public schools in Hamilton County.
The program's director says students are not exposed to "theological or doctrinal viewpoint."
Hixson High is one of 19 middle and high schools in Hamilton County that offer Bible classes as an elective course.
Bryan Osborne says he takes an active approach to teaching the Old Testament and teaches the Bible as history and literature.
The $1.8 million cost of salaries for Osborne and 15 other Bible instructors teaching 3,700 students in Hamilton County public schools is funded by private donations to a Public School Bible Study Committee.
The U.S. Supreme Court in 1963 ruled that Bible classes can be a part of public schools as long as they are not considered to be evangelistic courses.
Copyright 2006 by The Associated Press. All Rights Reserved.
Read the article: Privately funded elective Bible classes taught in public schools
To date, our Bible curriculum has been voted into 3,500 high schools in 41 states. Over 650,000 students have already taken this course nationwide, on the high school campus, during school hours, for credit.
Bible Scholars
Advisory Council
Our Textbook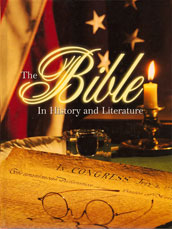 Quarterly Briefing