News Articles on Different Bible Curricula Available Nationwide for Public Schools



National Council on Bible Curriculum in Public Schools - Greensboro, NC

Bible in Schools Project - Chattanooga, TN

Bibles in Public Schools - Corpus Christi, TX

Bible Literacy Project - Front Royal, VA
Home

Latest News

Delta school to teach Bible as English elective
| | |
| --- | --- |
| Delta school to teach Bible as English elective | |
(From NEMS360.com - Read the entire article here)
NORTH CARROLLTON - The best-selling, most influential book of all-time is back at Carroll County public schools.
The Bible, banned for religious use in the classroom by the U.S. Supreme Court in 1963, is being taught this semester at J.Z. George High School as an English elective.
The course emphasizes the literary value of Scripture. Teacher Connie Bunch says it helps students with reading comprehension and understanding allusions and symbolism.
"We don't preach. We teach it," Bunch said. "If a child says, 'I don't believe in God, but I want to study the Bible,' that's fine."
The idea for the course came from Anjuan Brown, who teaches character education at J.Z. George. Brown also serves on the Greenwood school board and heard about the Bible class at a national school board conference in Virginia.
"I was surprised because of all the taking the religion out of school - prayer and things of that nature," he said.
The 1963 U.S. Supreme Court decision that found Bible reading violated the First Amendment's prohibition of government support of religion didn't stop all use of the Good Book.
"It certainly may be said that the Bible is worthy of study for its literary and historic qualities," Justice Tom Clark wrote in Abington Township School District v. Schempp. "Nothing we have said here indicates that such study of the Bible or of religion, when presented objectively as part of a secular program of education, may not be effected consistently with the First Amendment."
J.Z. George's first-year principal, Glen Stevens, said many discipline problems involve issues of honesty and respect for other people. The wisdom from the Bible, whether you accept Christian doctrines or not, helps students learn how to control themselves and relate to one another, he said.
So Stevens enthusiastically accepted the idea for the class when Brown brought it to him at the beginning of this year.
Administrators had to pull the course together quickly but luckily had an experienced teacher already at the school.
Bunch, who is National Board Certified in English, previously taught a Bible class for seven years at a public school in St. Francisville, La.
The wife of Carrollton Baptist Church Pastor Gary Bunch, she said the course does not endorse any particular biblical interpretation or denomination. When students have religious questions, she encourages them to talk with leaders at their churches or their parents.
The first semester of J.Z. George's class covers the Old Testament and the major characters often referenced in literature: Adam, Eve, Abraham and Samson. In the spring, students will study the New Testament and the life of Christ.
Their textbook is a parallel Bible with the traditional King James Version on one side and the easier-to-read New International Version on the other.
Material comes from the National Council on Bible Curriculum in Public Schools, which is used in more than 2,000 high schools in 38 states. A few other public school districts in Mississippi - less than 10 - are also teaching Bible. The state Department of Education sets the curriculum.
Students said the class is an opportunity to learn about the Bible and to share their opinion about religion.
The class of 12 is mostly made up of juniors and seniors. Administrators expect enrollment to grow in future years and would like to offer another section.
Read more: NEMS360.com - Delta school to teach Bible as English elective
To date, our Bible curriculum has been voted into 3,500 high schools in 41 states. Over 650,000 students have already taken this course nationwide, on the high school campus, during school hours, for credit.
Bible Scholars
Advisory Council
Our Textbook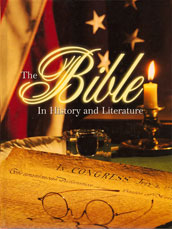 Quarterly Briefing