News Articles on Different Bible Curricula Available Nationwide for Public Schools



National Council on Bible Curriculum in Public Schools - Greensboro, NC

Bible in Schools Project - Chattanooga, TN

Bibles in Public Schools - Corpus Christi, TX

Bible Literacy Project - Front Royal, VA
Home

Latest News

Stromberg Says Bible In The Schools Both Legal And Popular
| | |
| --- | --- |
| Stromberg Says Bible In The Schools Both Legal And Popular | |
Chattanoogan.com - October 19, 2007

Stromberg Says Bible In The Schools Both Legal And Popular
by Dana Wilbourn
posted October 19, 2007


Douglas Stromberg, president of Bible in the Schools, told the Brainerd Kiwanis Club on Friday that teaching Bible history in the public schools is both legal and popular in Hamilton County.

Last year, 4,300 students in 19 Middle and High Schools in Hamilton County elected Bible history classes to supplement their education, said Mr. Stromberg.

Mr. Stromberg told the attendees that Dr. J. Park McCallie, in 1922, recognized that public school students were not receiving a complete education since they could not study history?s most influential book like private school students could. On behalf of the YMCA, he proposed a program to the city commission. It would be a gift, with no taxpayers funds used.
Read the entire article here - Stromberg Says Bible In The Schools Both Legal And Popular
To date, our Bible curriculum has been voted into 3,500 high schools in 41 states. Over 650,000 students have already taken this course nationwide, on the high school campus, during school hours, for credit.
Bible Scholars
Advisory Council
Our Textbook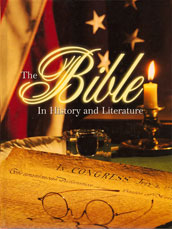 Quarterly Briefing